Watch the Video and Read the Original Article Here
The first food truck in USA on a college meal plan
NEW ORLEANS (WGNO) – Tulane University is making college history.  For the first time in America, there's a food truck on a student meal plan.
The menu is classic New Orleans.
WGNO News with a Twist features reporter Wild Bill Wood wants you to see the truck that's ready to roll out the food at the university that's hungry for more than just knowledge.
---
Read Original Article Here
Jandy's unveils mobile frozen yogurt unit at Berry College
Jandy's Frozen Yogurt unveiled a mobile self-serve yogurt trailer Tuesday night  during the National Student Work celebration on the Berry College  campus.
"We'll use this to go to big events, the Chiaha festival, things  like that," owner Andy Morris said. "Berry had asked us a couple of months ago,  so I went to building it to make it special."
Morris said it took about  four months and nearly $100,000 to design and build the mobile concession  trailer.
"I don't know of any self-serve yogurt concept trailers in the  country; I don't know of any," Morris said.
He opened Jandy's Yogurt at  715 Turner McCall Blvd. in the fall of 2010 and added a second location in  Calhoun, 315 W. Belmont Drive, in October of 2011.
"The business has  done good, but we've had some of the schools around here ask us to bring a  machine out to the schools for various events," Morris said. "It's kind of  difficult to move those 400-pound machines, so this was my answer to  that."
The biggest challenge to the development of the trailer was  getting enough power to pull the freezers. Each of the four freezer units is 240  volts pulling 12 amps when they're running.
"Everybody kept telling me  it wouldn't work, but it works fine," Morris said.
The mobile yogurt  trailer offers eight different flavors, four machines with two flavors and a  twist each. That compares to 16 flavors that are available inside the stores.
Read more/Original Article:  RN-T.com – Jandy's unveils mobile frozen yogurt unit at Berry College
---
Atlanta Food Truck Park driving to blend food with community
Read Original Article

Here
Howard Hsu loves food, but he also loves his community.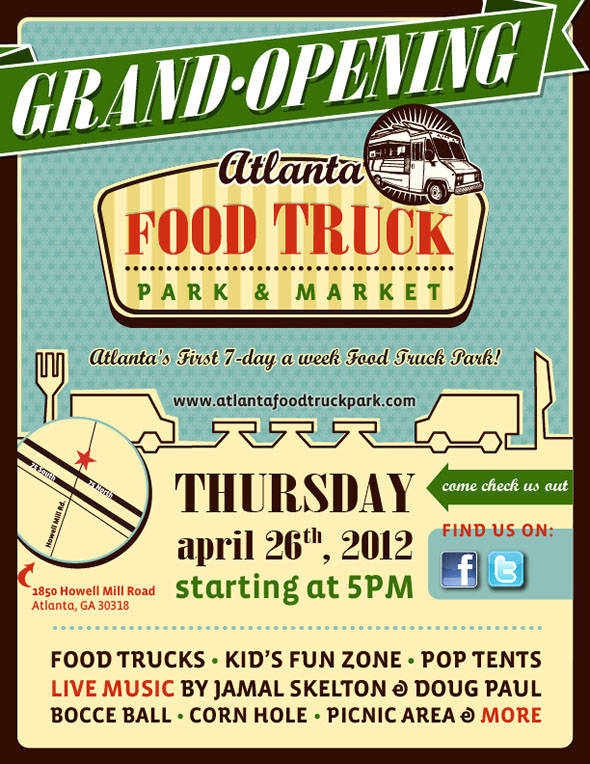 That's why the owner of the Sweet Auburn Barbecue food truck is opening the Atlanta Food Truck Park & Market next week on a 3-acre space of land — a former hotel site — at 1850 Howell Mill Road.
Initially, Hsu and his business partners, sister Anita Hsu and Brian Harvin, were looking for a permanent spot for the Sweet Auburn Barbecue truck. But given the size of the space he found, Hsu realized he needed to expand his idea, which is modeled after the street food scene in Austin and further west.
The result of his entrepreneurial thinking: 10-15 trucks per day – some the same, some different – will be stationed on the property from 11 a.m.-9 p.m. daily. There are plans for breakfast and late-night menus, likely starting on the weekends and with only a handful of trucks, so the operating hours might shift.
The initial lineup of offerings includes Sweet Auburn Barbecue, Yumbii, Honeysuckle Gelato, Champion Cheesesteaks, Happy Belly, Mighty Meatballs and Yum Yum Cupcake. (A full list is available at www.atlantafoodtruckpark.com).
While Atlanta's food truck scene is seemingly doing robust business, Hsu said appearances can be deceptive. And with trucks costing $50,000-$100,000 and health safety rules requiring commercial kitchens similar to those in restaurants, making a living is a challenge.
"You see lines and you see people congregate, but people don't realize that these are businesses that people have committed their life savings to. If you want to make money, you have to have a location to sell your product and operate like a restaurant," he said. "The beautiful thing about this industry is that you're taking people who have a passion for food and allowing them to start a business as an entrepreneur at a little less cost than it would take to open a full-fledged restaurant. It allows people to use that passion."
In addition to the primary draw of vittles, Hsu also wants to utilize the spot as a community center and turn half of the green space into a locale for small concerts, movie screenings, a playground and bocce ball court.
The park will host live music on Thursday nights. On weekends starting Saturday, the Howell Mill Farmers Market will be open on the site from 9 a.m.-1 p.m.
"We're trying to make it a first-class site. It's going to rival anything you see in Austin or on the West Coast," Hsu said. "Atlanta is primed for something like this."
Event preview
Atlanta Food Truck Park & Market and Howell Mill Farmers Market
Farmers Market opens at 9 a.m. Saturday. Food Truck Park opens 5 p.m. Thursday. 1850 Howell Mill Road, Atlanta. www.atlantafoodtruckpark.com.
---
Another Food Truck:  B.S. Sandwich Press
Read Original Article

Here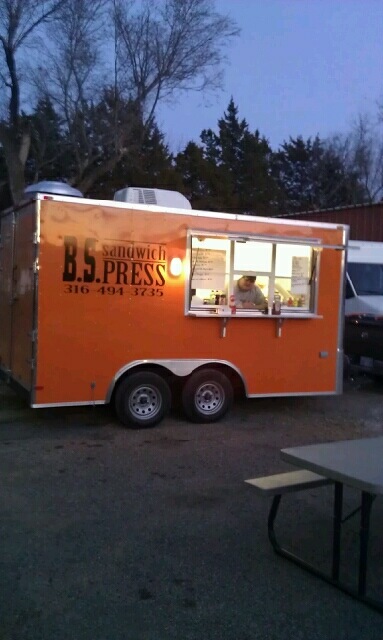 Every time I go outside these days, I find another food truck.
Yesterday, I discovered B.S. Sandwich Press, which is actually sort of a food trailer. Owned by Doug Buchanan and run with help from his sister, Jodi, the orange trailer hit the streets earlier this week. It offers a menu of panini sandwiches served with hand cut fries and homemade chips.
The duo is still trying to figure out the best place to park their business each day but so far have been focusing on locations in south Wichita. When I found them on Wednesday, they were in a parking lot behind the Double Tree hotel at Mid-Continent Airport. They've also frequented the parking lot outside the 4501 Building at Spirit, which is at 47th and Oliver.
Like other food truckers in town, the Buchanans post their location each day on their Facebook page. For now, they're just doing lunch but hope to find some places to park during evening hours as well. Their daily hours are roughly 11 a.m. to 1:30 or 2 p.m.
For more information, dial up the trailer at 316-494-3735.
Read more here: http://blogs.kansas.com/dining/tag/b-s-sandwich-press/#storylink=cpy